Censorship In Omaha

A look at some of the history of censorship in the Omaha area, including the persecution of Dr. John's Lingerie Boutique.



Hypocrisy

Anti-gay, anti-porn pastor from Omaha for Decency has been repeatedly cited for masturbating in public.

Updated 5/2012

Updated 5/2012

Omaha's Christian Taliban


Anti-porn crusader from Omaha for Decency wants to execute people who don't share his religious beliefs. Updated 6/2012



More Hypocrisy

Married Omaha for Decency pastor who wants porn banned to protect marriages admitted to sex with 17-year-old he was counseling for emotional problems.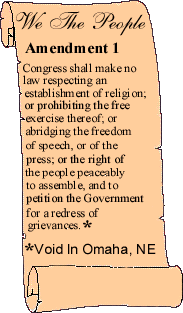 Even More Hypocrisy

Omaha anti-porn crusader doesn't practice what he preaches.



Hypocrisy Again

Anti-porn former archbishop repeatedly reassigned a child molesting priest.



Hypocrisy Continues

Iowa censor convicted of harassing woman with obscene phone calls.
Censors Not Credible

Nebraska censors who are crackpots.


Double Standards

Omaha judge gave jail sentence to owner of Dr. John's store for selling porn, but fine only to a child abuser.




Still More Hypocrisy

Omaha censor who wants porn prosecuted admitted he was a porn fan for 20+ years.